In the diary entries and documents left by Imrich Matyáš, we can find valuable mentions of specific people who did not cope with a life of persecution by the police and decided to end their own lives. In Matyáš's records, we can also find testimonies of people who underwent the so-called treatment of homosexual affection. In the interwar period, physicians did not have a well-established view on the origin of homosexuality that would be universally accepted. On the one hand, experts from the Berlin Institute for Sexual Sciences argued that homosexuality was innate and incurable. On the other hand, other experts offered treatment to cure these people in various clinics, for example by the means of hypnosis.
"How can one work and breathe freely,
If we live in a world of pretense oppressing people's hurting hearts?
How can the truth be told, how can we say "look at the light!"
when we have to be ashamed of our own truth?"
Excerpt from the poem "Hard to Understand?" By Pavel Forman in The Voice of the Sexual Minority, 1931, no. 5-6, p. 14.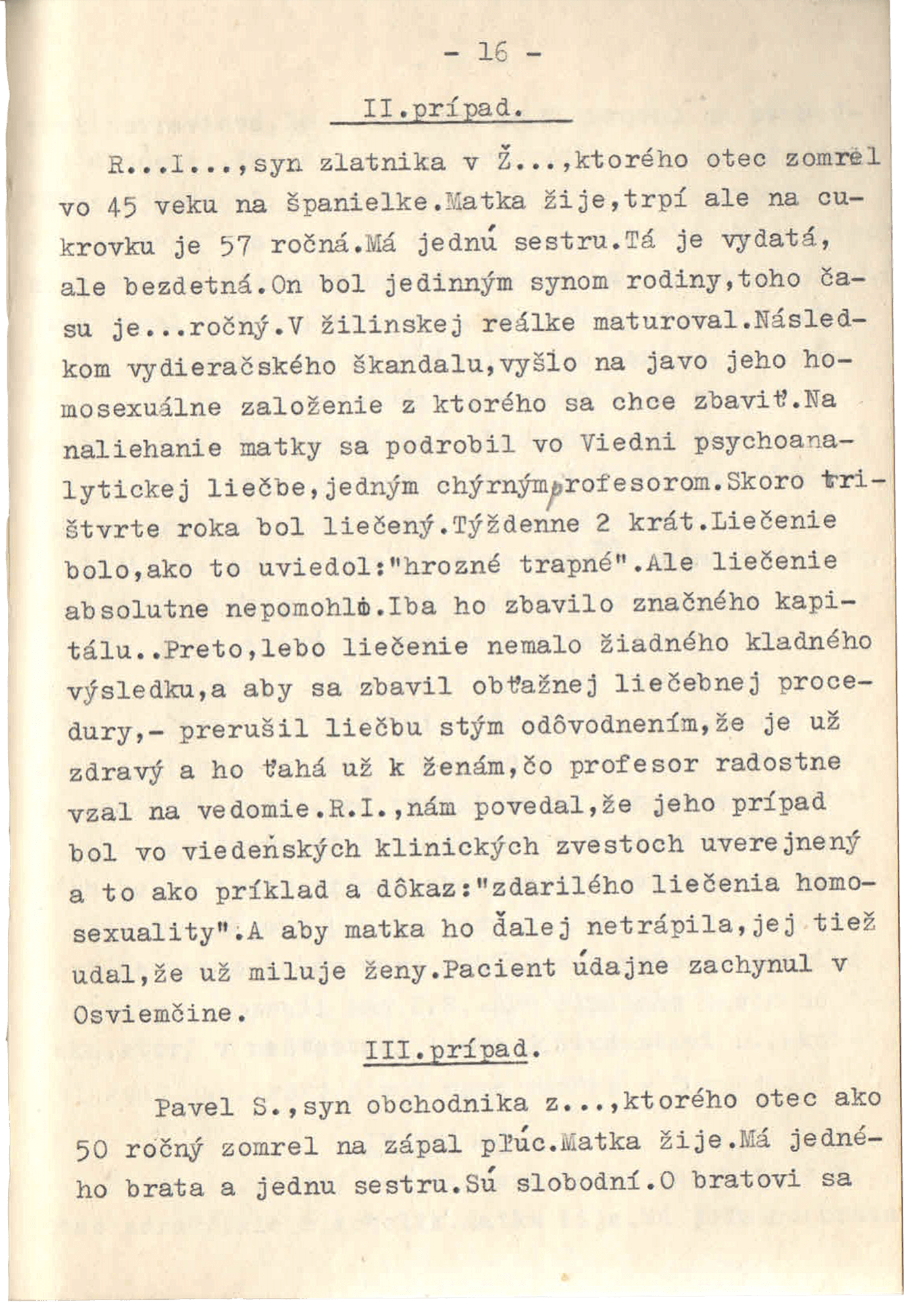 Case II. R. I., son of a jeweller in Ž., whose father died aged 45 from Spanish [flu]. Mother alive, but suffers from diabetes, aged 57. He has one sister. She is married but has no children. He was the only son of the family, currently aged ... . He graduated from the secondary school in Žilina. After an extortion scandal, his homosexual disposition was discovered, and he wishes to get rid of it.
At the insistence of his mother, he underwent psychoanalytical therapy in Vienna at a well-known doctor's practice. He had been treated for almost nine months. Twice a week. The treatment was, as he said, "terribly awkward". The treatment did not help at all. It only resulted in hiss loss of significant capital... Given that the treatment had no positive result and in order to avoid a difficult treatment procedure, he interrupted treatment claiming that he was healthy and attracted to women, which delighted the professor. R. I. told us that his case was published in several clinical journals in Vienna as an example and proof of "successful treatment of homosexuality". And so that the mother would not harass him, he told her too that he loved women. The patient allegedly died in Auschwitz.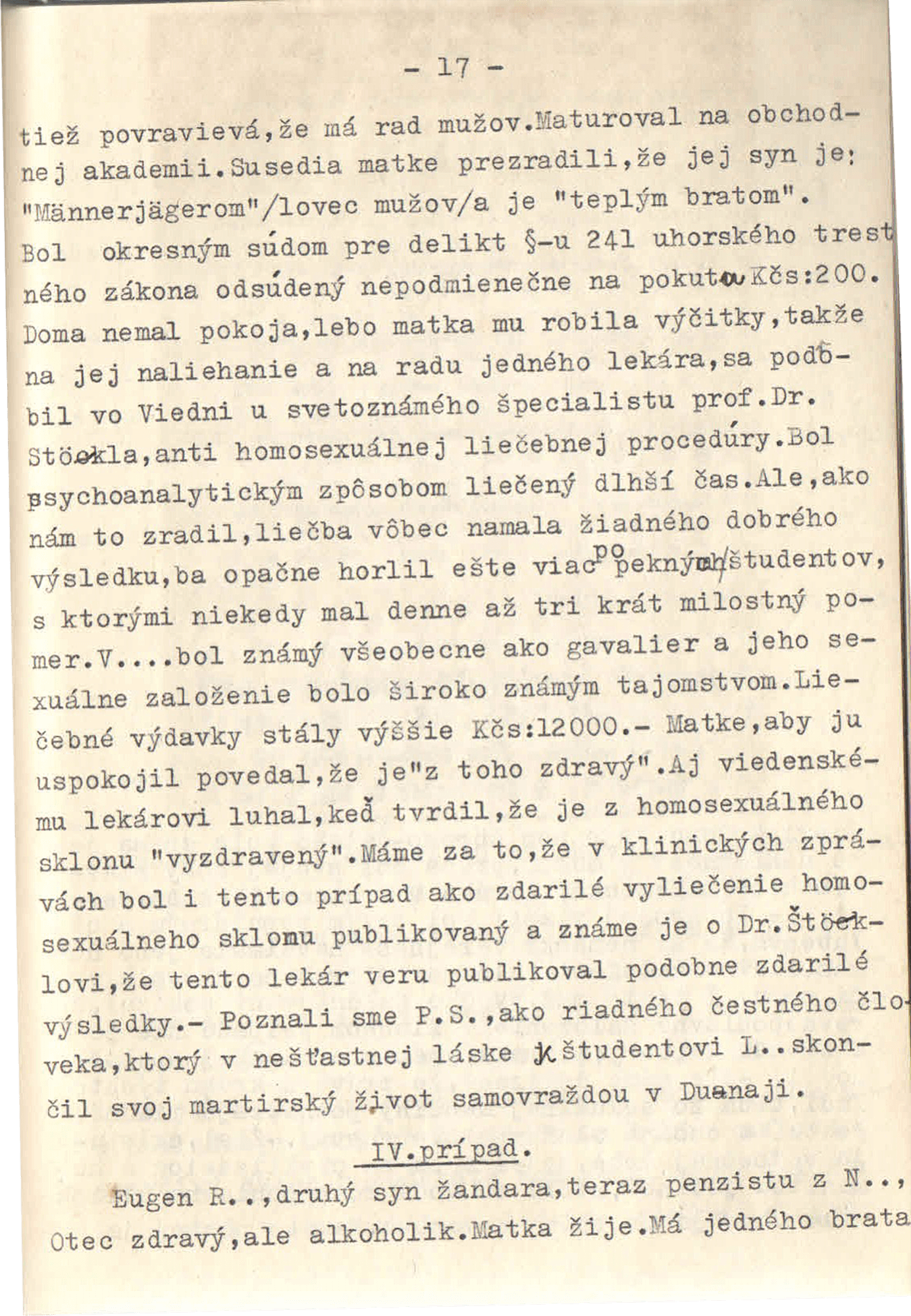 Case III. Pavel S. son of a merchant from ... whose father died at the age of 50 from pneumonia. The mother is alive. He has a brother and a sister. Both are single. People say about his brother that he too likes men. He graduated from the trade school. The neighbours told his mother that her son is a "Männerjäger" (hunter of men) and is a "gay brother".
The district court sentenced him to a fine of 200 Kčs for a criminal delict violating Art. 241 of the Hungarian penal code. He had no peace at home as his mother kept reprimanding him, so upon her insistence and advised by another doctor, he underwent antihomosexual treatment at the practice of world-renowned specialist, Prof. Dr. Stökl. He was treated psychoanalytically for a longer time. However, as he told us, the treatment had no good result, rather the contrary as he even more fervently desired the handsome students with whom he had up to three intercourses per day. V... was generally know as a gentleman and his sexual orientation was a well-known secret. The above treatment cost 12,000 KČs. He told his mother that "he was cured of it" so that she would leave him alone. He also lied to the Viennese doctor that he was "cured" of homosexual inclinations. We assume that this case was, too, published in clinical reports as a successful case of homosexuality treatment and it is known about Dr. Stökl that he published similarly successful results. We knew P. S. as a good, honest person, who ended his martyr-like life by suicide in the Danube river due to his unfortunate love toward a student, L.
Case IV. Eugen R., the second son of policeman from N., now pensioned. Father is healthy, but an alcoholic. The mother is alive. He has a brother and a married sister with 2 children. He graduated from high school in T. When he underwent the antihomosexual therapy, he was 24.
He is a clerk. He was deeply religious. Due to religious reason and advised by his priest at the confession and a doctor, he underwent the therapy at the aforementioned clinic in Vienna. He went there weekly. He did not tell us which famous doctor treated him and how, only that the treatment "cost a lot of money". The treatment had no effect, and he lived with a 19-year-old young man whom he loved for years. The costly treatment did not help in this case either. (Bárdoš Bodó, a witness) reported that he became nervous from the treatment and assumed that it caused his heart defect. When asked about what he told the Viennese doctor regarding the result of the treatment, he replied that he "lied to him that he was cured". This doctor could, too, claim that he "successfully treated homosexual orientation"! And he certainly lectured about his case to his students at the clinic. After the treatment, E. R. had a homosexual affair which was blown out of proportion by the local Hungarian newspaper. (The title was "Kéjlak áll a nagy Duna mentébe"). This affair made him even more nervous, worsening his heart condition. We reprimanded him that he should have told the doctor the truth about the result of the treatment because this only harmed science and other homoerotics, confusing the doctor who will subsequently deceive is students, which strengthens the false ideas about the essence of homosexual orientation. E. R. died in the hospital from a heart disease, [text incomplete]